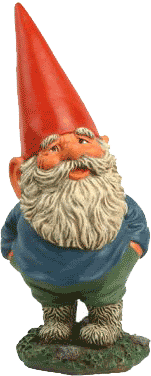 Wanted: Garden Gnome
Why: To protect my garden from BLACK MAGIC
Reward: A beautiful, bountiful flower garden

I think garden gnomes are cute, decorative items to place in your flower garden or lawn. Just don't go overboard with them a couple will be enough. Legends say that garden gnomes will protect your garden from the
EVIL
creatures who will use black magic to destroy your garden killing the flowers and making hideous gardens reign supreme across the land.
Do you want that to happen? If the answer is
NO
then you need a garden gnome, who will be gracious enough to protect you from such evil doings!
★Star