Reality television shows have become really popular over the past decade. I admit that there are some reality television shows that I absolutely love, but there are also so that I can't stand to watch. Sometimes I am just like I can't believe people get on television and actually do these things. Some of my favorite reality television shows have great competitions. I love a good competition. I also love fashion, so fashion competitions make for fabulous reality television. Two of my all time favorite reality television shows are Project Runway and America's Next Top Model.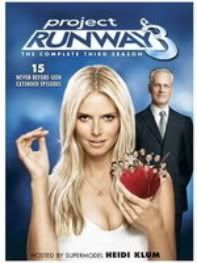 On Project Runway a group of aspiring fashion designers are competing for a show in New York Fashion week and a cash prize to help them start or expand their own business. My favorite part of this show is the runway show at the end of each episode where the outfit that each designer has made gets modeled by their model and the judges pick their favorite and least favorite outfit. The winner of each challenge gets either a prize or immunity from being cut in the next challenge. The loser gets cut. To me it is amazing how creative these designers can be and it just amazes me the outfits they can produce in such short amounts of time.
On America's Next Top Model a group of young women aspiring to be models are competing for a modeling contract, a magazine spread, and a cash prize. My favorite part of this show is to see the girls in the actual shoot and then to see the picture chosen as their best shot. I love the photo shoots were the girls are not just in regular clothes. One of my all time favorite shoots, they have almost every season, is the one where the girls are two different people in the same photos. They have one round of photos taken in one look another set taken in a different look and the two are put together so that there are two people in the same photo, but the one girl has been both of them. I also love the runway challenges. In the beginning most of the girls are horrible at this and you can see them really improve over the season.
What are some of your favorite fashion television shows?
Do you remember Jessica Alba's outfit shown on the web a couple of weeks ago that she wore at a special showing of her latest movie?
Well, you saw it here first! Remember this polyvore?
It was from our
Good As Gold
post.
Star
Via:
Bloginity
,
WeHeartIt